February Stars …
September 17, 2011 – 6:14 pm
I'm hanging on
here until I'm gone
I'm right where I belong
just hanging on
even though I watched you come and go
how was I to know
you'd steal the show?

one day I'll have enough to gamble
I'll wait to hear your final call
and bet it all
I'm hanging on
here until I'm gone
right where I belong
just hanging on

even though I pass this time alone
somewhere so unknown
it heals the soul
you ask for walls
I'll build them higher
we'll lie in the shadows of them all
I'd stand but they're much to tall
and I fall

february stars
floating in the dark
temporary scars
february stars
… ♫ Foo Fighters (click for YouTube video)
Ultra Violet
August 18, 2010 – 8:15 pm
Light My Way…


Title borrowed from U2′s song, Ultra Violet (Light My Way) from Achtung Baby

Tags: batesford, dog rocks, Geelong, Landscape Photography, light my way, rainbow, tree, u2, ultra violet, victoria
No Comments...click to add a Comment
| Posted in »
Landscape Photography
|
Book Published!
June 3, 2010 – 9:17 pm
Last year I posted a blog Book Cover – "Path To The Wormhole" where I mentioned my stairtrail photo from Lake Fyans, which I titled Path To The Wormhole was going to be the cover for Tracy Daugherty's book.
Well, Tracy's book has been publised and my copy arrived this week! It looks awesome, and looking forward to reading Tracy's stories! Here's the Amazon link.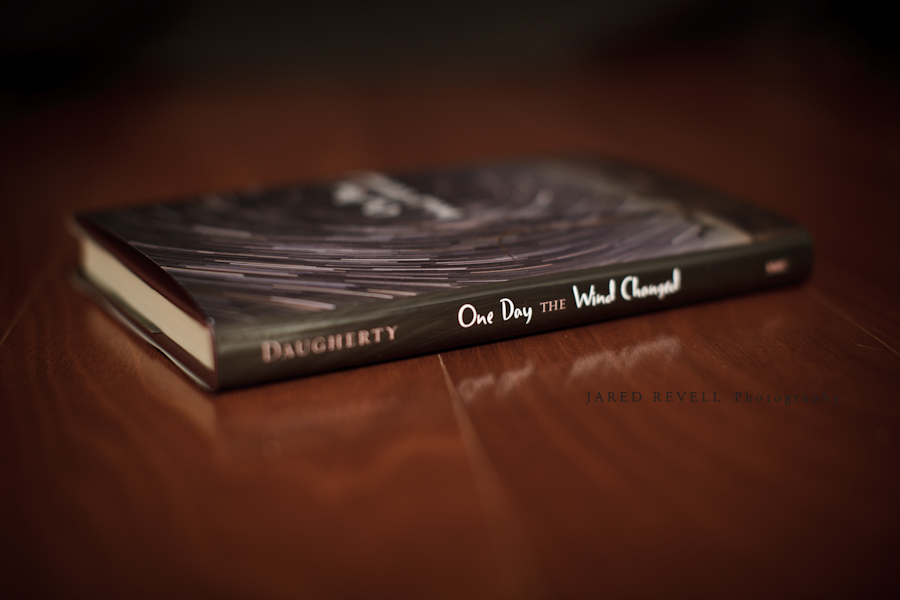 Tags: 2010, Add new tag, Bookcover, Jared Revell, Lake Fyans, Melbourne, One Day The Wind Changed, Path To The Wormhole, short stories, Startrail, Tracy Daughtery
1 Comment...click to add a Comment
| Posted in »
Landscape Photography
,
Random ...
|
Book Cover – "Path To The Wormhole"
December 18, 2009 – 8:33 am
I am thrilled to announce my photo "Path To the Wormhole" will be used as the cover image for a Tracy Daughtery's book titled "ONE DAY THE WIND CHANGED", published by SMU.
Tracy's stories are set in the desert Southwest, and two of which have to do with astronomers having references to the vast, starry night sky.
Tracy Daugherty is a fine writer, having published four novels and four short story collections.
He has also published a collection of personal essays and a biography a major literary figure from the 60s and 70s, Donald Barthelme, Hiding Man. That book was published by a major New York publisher and brought him much acclaim.
He has won fellowships from the National Endowment for the Arts and the Guggenheim Foundation. Currently, he is Distinguished Professor of English and Creative Writing at Oregon State University. Daugherty grew up in Texas and received his Ph.D. from the University of Houston, where he studied with Donald Barthelme. He will be a featured author at the Texas Book Festival.
Tags: 2009, Book Cover, novel, One Day The Wind Changed, Path To The Wormhold, publisher, short stories, SMU, South Celestial Pole, Stars, Startrail, Tracy Daughtery
No Comments...click to add a Comment
| Posted in »
Landscape Photography
,
Random ...
|
Rejuvenation & Hope – Victorian Bushfire Region
August 24, 2009 – 7:13 pm
As the bushfire torn regions of Victoria slowly recover, news from the other side of the world tell similar stories of devastation to the land recently in Greece and California.


It's the first time I have been to the region since the raging Black Saturday fires in February. I spoke to a few locals who shared their first hand experiences. Having spent the day in the area, the shear enormity of the destruction really hit me, and I could only imagine what the residents must have felt during that awful week and also the slow recovery since.


The photo I took below really spoke to me of the struggle, unity and Aussie spirit, almost a last stance against the menacing inferno.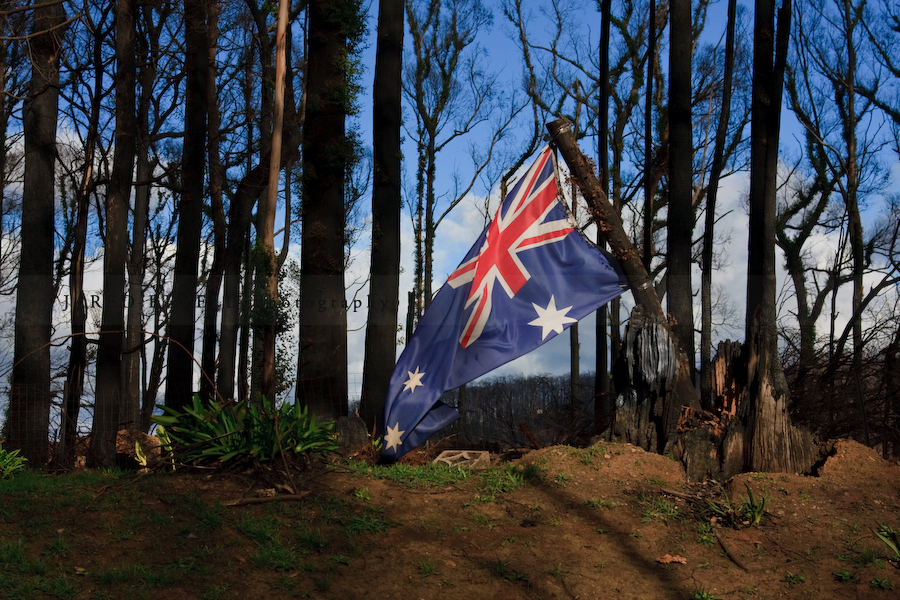 The other photographs hopefully show not only a glimpse of the awful devastation, but provide some hope and inspiration to everyone affected by the bushfires, that the cycle of life continues.


| | |
| --- | --- |
| | |
| | |
| --- | --- |
| | |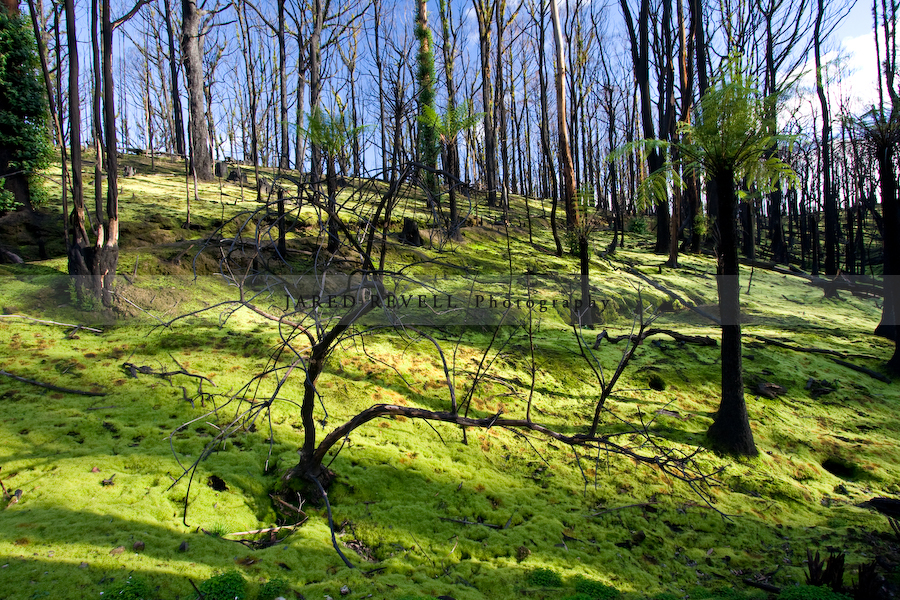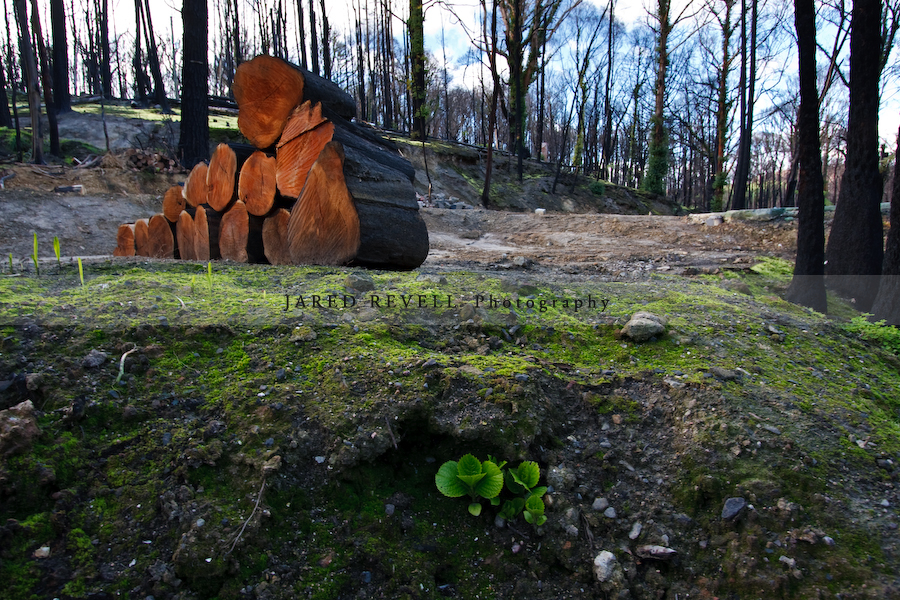 Tags: Aussie, Aussie Flag, Australian Flag, Black Saturday, bushfire, Hope, Kinglake, Melbourne, Murrindindi, national park, Rejuvenation, victoria, Victorian Bushfire Region, Whittlesea, Yarra Valley
Victoria's Alpine Region (Winter) – Landscape Photography
July 7, 2009 – 6:19 pm
Just back from a wonderful weekend away with my beautiful wife.
We stayed at Ted's High Country Lavender Farm in Porepunkah. Gorgeous wood fire mud brick cottages are set on a large property with magnificent views of Mt Buffalo and Porepunkah's surrounds.
In the summer, purple lavender covers the ground. In winter, the farm offers a great romantic mud brick cottage hideaway. The cottages have spas, wood fires and are self contained, a fantastic rustic getaway.
This time of year brings cold, frosty nights, and the wood fire is a must. The crisp mornings are just beautiful as the frost and fog takes overs the land.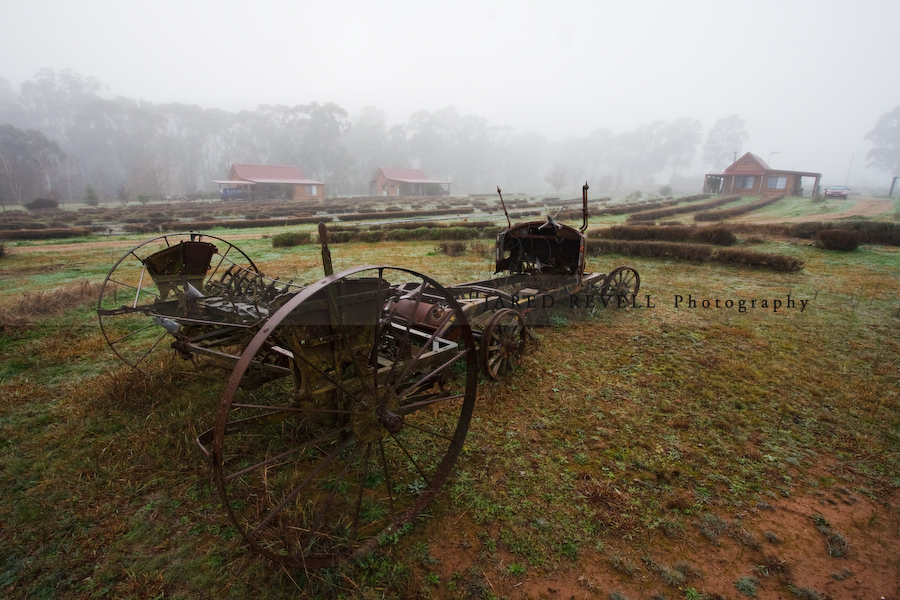 Winter brings plenty of snow to the mountains in Victoria's alpine region. On clear days, you can see snow capped peaks in the distance. Snow lovers travel up north to hit the alps to ski, toboggan or hike.
For those not into the recreational activities, traveling to the region just to see the marvelous views is sufficient, there's something for everyone.
Mount Buffalo National Park (see www.parkweb.vic.gov.au for more info) stands tall as the dominant mountain south along the Great Alpine Rd from Myrtleford, Ovens, Eurobin, Porepunkah and along to Bright. The mountain has spectacular granite cliffs, endless waterfalls and enormous, deep gorges.
Lying on the western slope of Mt Buffalo is the massive Lake Buffalo. It is a popular fishing, water skiing and picnicking venue.
This time of year, carrying snow chains is compulsory. The main road is often snow-covered from McKinnons Corner through to Cresta Valley.
In winter, the road to "The Horn" (the peak of Mt Buffalo at 1723m) is closed due to the road being snowed under. Skiers can enjoy a day at Cresta Valley, while hikers can venture around other areas of the park as there is over 90km of tracks. We hiked up "The Hump" track to the Cathedral.
Starting at the Cathedral Picnic Area, the "Hump track" track is covered in snow in winter, but worth the climb for spectacular views of Cresta Valley and the Horn.
On the climb up or down, make sure you stop and check out Torpedo Rock. This unbelievable 'torpedo' shaped rock sits on another and looks amazing in winter with the ground covered in snow and a vibrant blue sky.
On the climb down the mountain, we walked the Eurobin Falls Track, which passes Ladies Bath Falls along the way. Just round the bend from the walking track is the Eurobin Falls Picnic Area which is also a lovely spot to stop and view the water running at full force this time of year.
The nights in the Alpine Region get very chilly indeed, especially on clear nights. Below is a 30 minute star trail photo before the fog started to drift over the valley, fogging up the lens as well !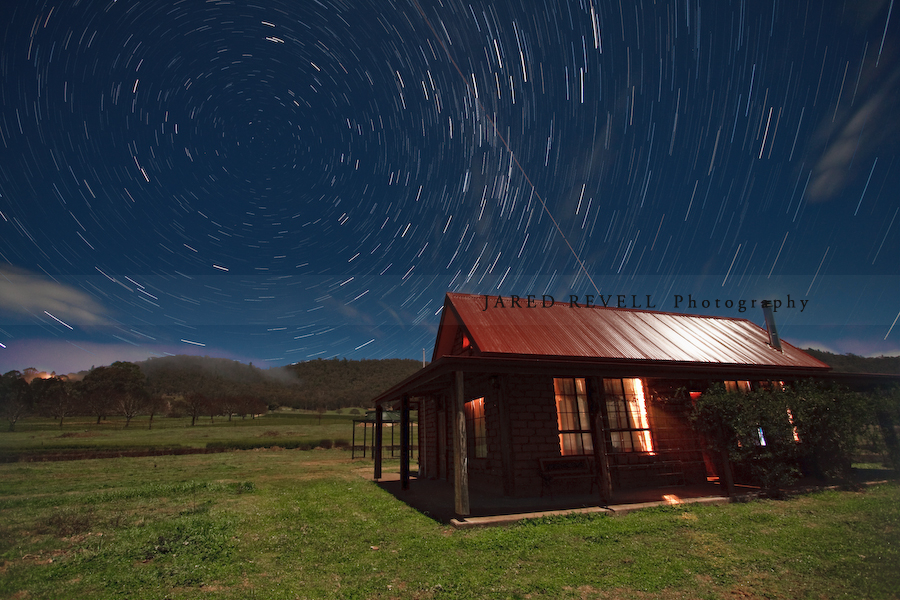 A trip to this region wouldn't be complete without stopping at one or many of the local wineries. Without doubt, the most popular from the King Valley wine region is Brown Brothers.
The family owned and run Brown Bothers produces the largest range of wines in Australia. You can be sure every time you go, there will be something new and exciting to taste and buy.
Tags: 2009, Alpine, Alpine Region, Bright, Brown Brothers, Cathedral, Eurobin, Eurobin Falls, farm, fog, frost, High Country Lavendar Farm, Ladies Bath Falls, Lake Buffalo, Landscape Photography, Mount Buffalo, mountain, Mt Buffalo, national park, Porepunkah, ski, snow, snow capped, Star Trail, Torpedo, victoria, Winery
Boyntons Feathertop Winery – Porepunkah VIC
June 5, 2009 – 6:43 pm
In 1989, Kel Boynton established a family owned winery in the beautiful town of Porepunkah, in Victoria's Alpine Region. The winery is now aptly named "Feathertop" after the nearby mountain which is a commanding feature in this Alpine region. Mt Feathertop has been attributed to sheltering the valley and influencing the air currents in the region. It also has had an impact on the rich soil structure in which the grapes are grown, as well as providing fresh Alpine spring water for the vineyard.
"Like all great success stories, the story of the birth of Boynton's Feathertop Winery is filled with passion, adventure, disappointment and fear but above all strength, determination and an individuals belief in his dream despite the odds."
"Feathertop Wines captures the essences of nature and the beauty and crispness of the Alpine Valleys which surround the wine" (from the Feathertop Wines website)
Kel & Janelle Boynton have a Wine Club called "Summit Cru" which I am a member of.  Each quarter I receive a dozen of Kel's selected wines ~ which I always look forward to!
Below are a few photos I've taken from autumn and summer at Feathertop.   I have the first autumn photo "Bright Red Path" printed on extra large canvas in my lounge room, which I love.
The last photo in the set I named "Feathertop" and is one of my favourites as the wispy clouds look like feathers above the "Feathertop" vineyard.
Feathertop Wines is located at 6619 Great Alpine Road, Porpunkah, VIC.  If you are in the area, make sure you stop in to the cellar door and try their wonderful wines.

Tags: Autumn, Autumn Photo, Boyntons, Bright, Bright Red Path, Feathertop, Kel Boynton, Porepunkah, Vines, Vineyard, wine, Winemaker, Winery
F o r A d a m
May 11, 2009 – 8:06 pm
I keep searching for a sign
That you are waiting for us
So many times have I looked twice
A face that I thought was yours
I am always looking
Your time in this life was so short
Never has something affected me so
I try to move on
I will never forget you
You are always in my prayers
We will never forget you
Our captain
Our heart
10 years has passed
It still breaks my heart
But I will never forget you
I carry it with me
A burden
My cross
I carry it for you
I always will
Could it get less heavy?
Only time will tell
But 10 years has passed
I miss you mate
I will never forget you
Yes, I saw it
It's always been there
I didn't miss it
We will meet again
In the after life
21.08.98
Adam, you would have been 30 today…Happy birthday mate, this photo is and will always be dedicated to you…and it's hanging on my wall and your mum & dad's…we will never forget you.
Tags: Adam, Adam Self, dedicated, dog rocks, double rainbow, F o r A d a m, rainbow, sunset
No Comments...click to add a Comment
| Posted in »
Landscape Photography
|
Hopetoun Falls, Otways, VIC – Waterfalls/Landscape
April 13, 2009 – 10:23 pm
What better way to spend Easter Monday than getting down to the beautiful Otway Ranges.
I just love it down there. Hours photographing nature, hiking and wading on the slippery rocks in the cold water is what I call fun !
Here's a few shots from different perspectives of Hopetoun Falls.
Tags: Fern, hopetoun, Hopetoun Falls, hopetown falls, national park, Otway Ranges, otways, rocks, victoria, wading, Waterfall
Victoria's Alpine Region (Summer) – Landscape Photography
January 14, 2009 – 8:46 pm
Wild flowers come to life in Victoria's Alpine Region during summer.
During certain times, fields are covered in them, depending on the weather conditions. This year I didn't see endless fields, but there were plenty of flowers on show displaying their vibrant colours and hardiness.
The mountains have many tracks for four wheel drivers to attempt, and many winding roads. Mountains and valleys dominate the land in this region always provide spectacular views.
This year, the stark white trees were a reminder of the terrible bush fires that the region is prone too. But the beautiful wild flowers and new growth provided a reminder that the cycle continues and the local flora and fauna was returning.
During summer, venturing up to the peak of Mt Buffalo at sunset is definitely worth the drive. Approximately 1 hour from Porepunkah, the lookout at The Horn Picnic Area has breathtaking views. You can just sit back and watch in amazement as the sun goes down behind the ranges, colouring the sky and exposing the sheer grandeur of the region. Layers and layers of ranges can be seen in shadow.
During twilight, a walk up to The Horn is something special. At 1700m, The Horn is the highest peak at Mt Buffalo. A popular spot for rock climbers, it also offers magnificent views both during the day and at night. Make sure you bring a torch and you're not afraid of bats or moths !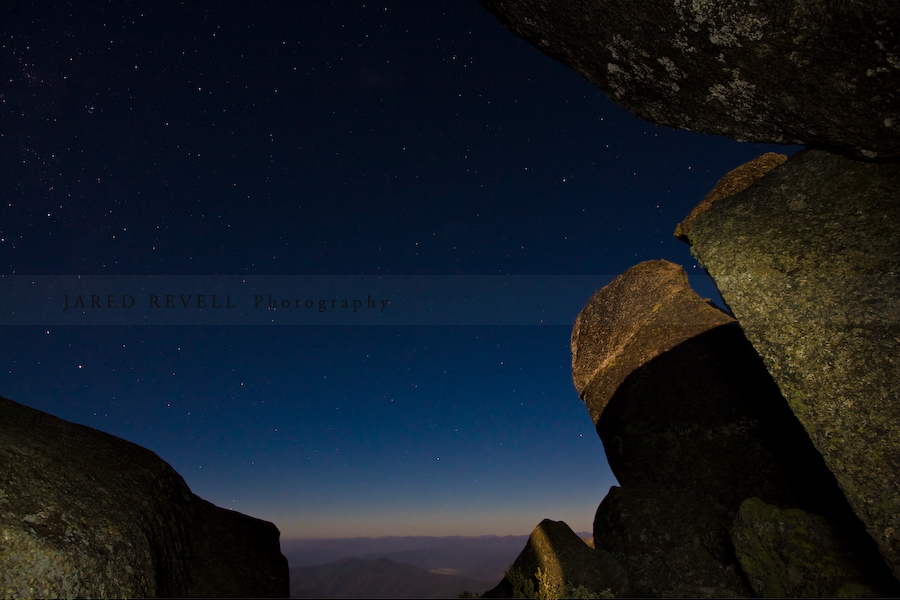 Mt Buffalo offers so much for outdoor enthusiasts. The air is fresh and the steep rising granite cliffs, grand. Wildflowers flourish in amongst the snow gums.
At dawn and dusk, keep your eye out for native animals such as wombats, wallabies and lyrebirds. With over 90km of walking tracks, summer is a great time to get outdoors and trek. Mountain biking, canoeing and swimming are just a few of many other activities on offer during the warmer months, see www.parksweb.vic.gov.au for more information.
Tumbling waterfalls aren't as prevalent in summer, but it makes for ease of access across Eurobin Creek at the base of the mountain.


Accommodation is scattered all throughout the region and there are plenty of places to choose from depending on your budget. This summer, my family stayed at Ted's High Country Lavendar Farm.
Purple covers the ground and it's a perfect location for both couples and families. Set on a few acres, the farm offers a great getaway as well as plenty of room for kids to get up to mischief and get to know the local animals like Ted's donkeys, chickens and sheep to name a few.


Consisting of four river basins or valleys, created by the Ovens, Buffalo, Buckland and Kiewa rivers, this region's high altitude, hot summer days and cool nights allow its small vineyards to make distinctive wines (sourced from www.visitvictoria.com).
Wineries in the region are a perfect place to have a delicious lunch and try many of the fabulous wines on offer from the region.
During summer, Feathertop Winery's cafe is open and offers a wonderful selection of local produce for lunch, as well as fantastic wine.


And on your return journey…keep an eye out for the never ending views, or even just interesting yards !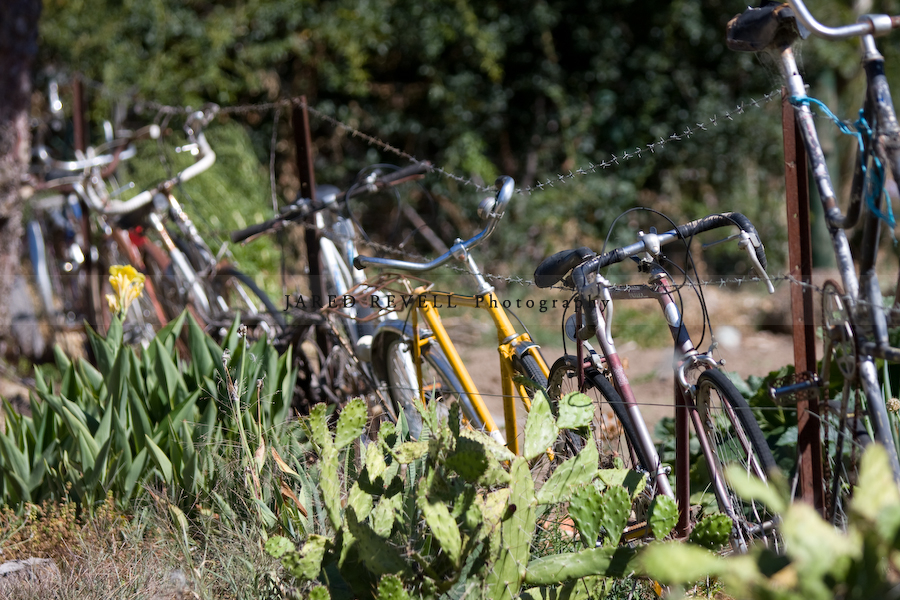 Tags: 2009, Alpine, Alpine Region, bicycles, bike, Boynton, Boyntons, Bright, bushfire, cottage, donkey, Eurobin Creek, Feathertop, flower, grapevine, High Country Lavender Farm, Landscape Photography, lavender, lookout, Mount Buffalo, mountain, mountain layer, Mt Buffalo, mudbrick, national park, Porepunkah, rock, sky, star, Star Trail, stark tree, starlight, sunset, The Horn, victoria, views, Vineyard, Waterfall, whispy cloud, wildflower, Wildflowers, wine, Winery
Star Trails
January 9, 2009 – 5:41 pm
On our recent trip to the Grampians, Neil and I did some late night star trail photography at Lake Fyans.
A few people have asked me how I did it, so I thought I'd share my information with you all.



With digital cameras and remote shutter releases, it's fairly straightforward to take star trail photos. I recommend taking multiple shorter exposures and merging them because digital sensors build up heat over long exposures, causing red/purple casts to appear at the edges of the sensor and ruining your shot. Using shorter exposures is a way around this.
For my photos above, the details are below.
Camera Settings
Camera: Canon 40D
Lens: EF-S 10-22mm
Focal Length: 10mm
Aperture: f4.0
ISO: 800
Shutter Speed: 30 seconds x 114 shots & 111 shots
WB: Auto White Balance
Format: RAW
Tripod
Remote shutter release cable
Drive mode: Continuous shooting (burst)
Focus point on the tree (using a torch to illuminate the tree to get the focus point)
Processing
Step 1: (RAW file adjustments to all 114 shots)
Exposure adjustment: +0.9 (to get the exposure level I was after)
Exported the 114 shots as JPEG
Step 2: (Merging photos)
There are a couple of methods of doing the photo merging.
Achim Schaller has written a wonderful Startrails Application to merge all exposures into one JPEG.
It also can create a time-lapse movie ! (see mine below)
Another method is to use Photoshop and combine all layers using "lighten" merging.  A handy and time saving method is to use Chris Schur's Photoshop action.
Step 3: (JPEG Adjustment)
Sharpening (50%)
Noise Reduction (100% colour & luminance)
Celestial Positioning
Depending on what effect you are after, compose your shot accordingly.
For my photo above, I composed the shot using the south celestial pole  (see image below sourced from wikipedia) which give the circular effect.
The north and south celestial poles are the two imaginary points in the sky where the Earth's axis of rotation intersects the imaginary rotating sphere of stars called the celestial sphere.  The poles appear directly overhead to an observer at the North and South Pole's.
For those living in the southern hemisphere, there are a few methods to find the south celestial pole.
Southern Cross Method

The south celestial pole can be located from the Southern Cross and its two pointer stars.
Looking up at the Southern Cross, draw an imaginary line from the two stars at the extreme ends of the long axis of the cross and follow this line through the sky.   You can either go four and a half times the distance of the long axis on the Southern Cross in the direction the narrow end of the cross points, or join the two pointer stars with a line, divide this line in half, then at right angles draw another imaginary line through the sky until it meets the line from the Southern Cross.  At this crossing point is the south celestial pole.
Magellanic Clouds Method

Using the Magellanic Clouds clouds in the southern sky, make an equilateral triangle, the third point of which is the south celestial pole.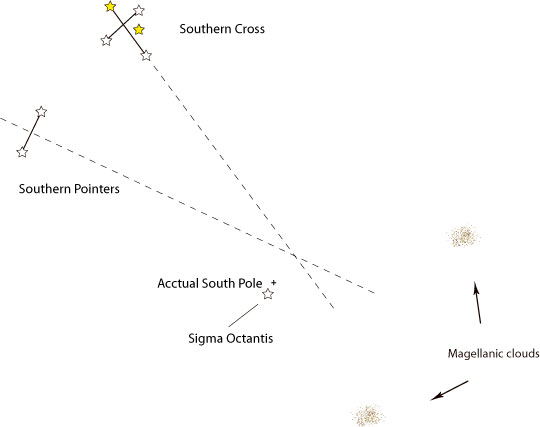 Compass Method
Using a compass, locate true south and point up to an angle equivalent to your latitude.
For example, if you were in Melbourne CBD (-37.814056,144.96168), then using your compass facing true south and looking up at an angle of 37.8° will give you the south celestial pole.
Celestial Movement
Below is a compiled video of all of my 114 exposures from Lake Fyans in the Grampians, showing the celestial movement around the south celestial pole, located at the end of the tree's branch.  (Thanks to "Achim Schaller" for this wonderful application).
You'll notice too that the light seems to fade on the lake and the tree goes in shadow.  This was because the moon was behind us and was fading to the horizon over the hour of exposure.  Also the bright light appearing across the lake at the end of the sequence was a car.
Tags: A Long Way Home, Grampians, Lake Fyans, Mount Buffalo, Souther Celestial Pole, Southern Cross, Star Photography, Star Trail, Stars
33 Comments...click to add a Comment
| Posted in »
Landscape Photography
,
Tips & Tests
|
Autumn in Bright – Landscape Photography
April 27, 2008 – 9:10 pm
There is nothing like Autumn in Bright, Victoria.
Bright is just one of those places that you have to see to believe in autumn.
The deciduous trees leaves turn to vibrant red and yellow in this gorgeous old town in Victoria's alpine region.
Autumn brings many to the region to see the landscape and enjoy the seasonal festivities such as the Bright Autumn Festival.
The town has a buzz about it which the colours seem to enhance.


There is plenty to do and see around the region.


A great place for families to visit is the Buckland Valley Alpaca Farm. The farm offers talks and tours, and kids can get up close and personal with these beautiful and inquisitive animals. You can enjoy a locally roasted coffee during the afternoon on the farm and browse or purchase some of their alpaca fleece products.




Wine lovers can enjoy touring and tasting the exquisite wines from the King Valley and Alpine Valley region. Autumn offers amazing views and scenes from the wineries, as well as a perfect place to have alfresco lunches.
King Valley wineries include the well known Brown Brothers, through to smaller plantings which also welcome visitors to their cellar door. Italian red wine varietals, such as sangiovese, nebbiolo and barbera flourishes in the region.
Alpine Valleys region produce mainly chardonnay and pinot noir. The region's high altitude, hot summers days and cool nights allow its small vineyards to make beautiful, distinctive wines.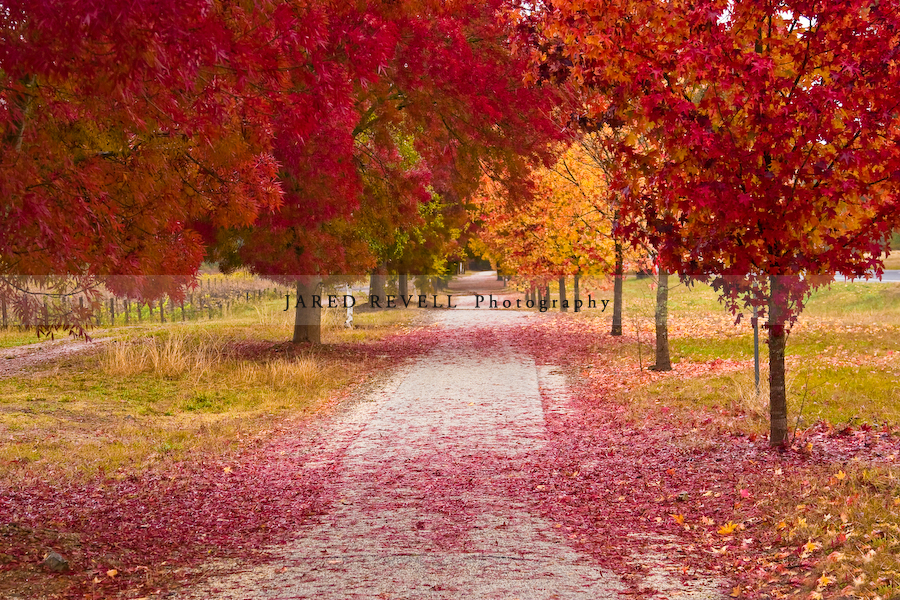 The town offers so much, anything from shopping, dining and picnics. There is no shortage of accommodation or dining options, something for every mood.
Ovens river runs through Bright. In the summer the water hole is a popular spot for swimming, in autumn it is a wonderful location for a family picnic, with a large park, local wildlife and beautiful autumn views.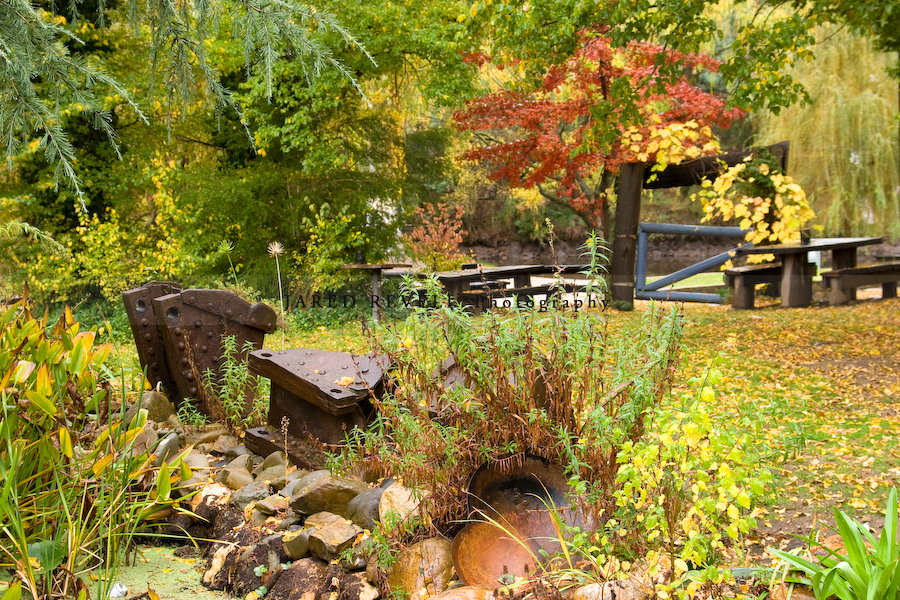 Beer connoisseurs will love the local brewery, Bright Brewery. The brewery use fresh mountain water, quality ingredients and craft brewing techniques to brew their trademark "MountainCrafted" beer.
In the heart of Bright, right next to the water hole and park, it's a great spot to have a beer and relax.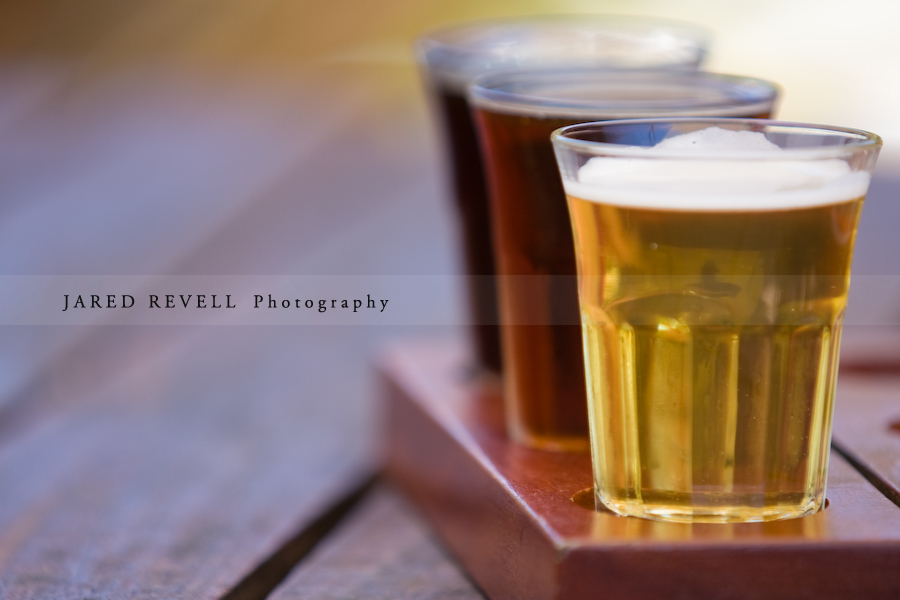 Tags: Alpaca, Alpaca Farm, alpacca, Australia, Autumn, Beer, Boyntons, Bright, Bright Brewery, Bright Red Path, Brown Brothers, Buckland Valley, Church, cute alpaca, Feathertop, fireplace, gate, leaves, Milawa, MountainCrafted, Porepunkah, red leaves, Travel and Photography, trees, victoria, Vine, wine, Winery, yellow leaves