February Stars …
September 17, 2011 – 6:14 pm
I'm hanging on
here until I'm gone
I'm right where I belong
just hanging on
even though I watched you come and go
how was I to know
you'd steal the show?

one day I'll have enough to gamble
I'll wait to hear your final call
and bet it all
I'm hanging on
here until I'm gone
right where I belong
just hanging on

even though I pass this time alone
somewhere so unknown
it heals the soul
you ask for walls
I'll build them higher
we'll lie in the shadows of them all
I'd stand but they're much to tall
and I fall

february stars
floating in the dark
temporary scars
february stars
… ♫ Foo Fighters (click for YouTube video)
Cape Otway Koalas …
July 16, 2011 – 7:11 pm
It's been too long since I've regularly posted, I've neglected this blog for a while…..it's been one of many things I've put to the side and thought, "I'll do that when I get some time"…. well, you know how it is. Once a daughter comes into the world, things change and 'my time' is no longer! =)
Anyway, I want to try to keep this updated with all my work and projects.
Last weekend, we decided on Saturday morning to go for a drive, and we ended up in Cape Otway. I'd never been down to the southern tip before, never made that turn off, off the Great Ocean Rd.
On the drive in, I found that cars were just stopping in front of me (with no indication mind you…grrrrrrr) but they knew what they were doing, so that's ok, yeah?? Anyway, I realised that they were stopping to check out the regions local wildlife, lots n lots of koalas. Never have I seen so many cute marsupials in one area. There was one that caught my eye, this little guy was just hanging around quite low on the gum tree, almost as if he was showing off!



I quite like stepping back and taking a look at a scene rather than just the subject sometimes, I find it makes for an interesting shot…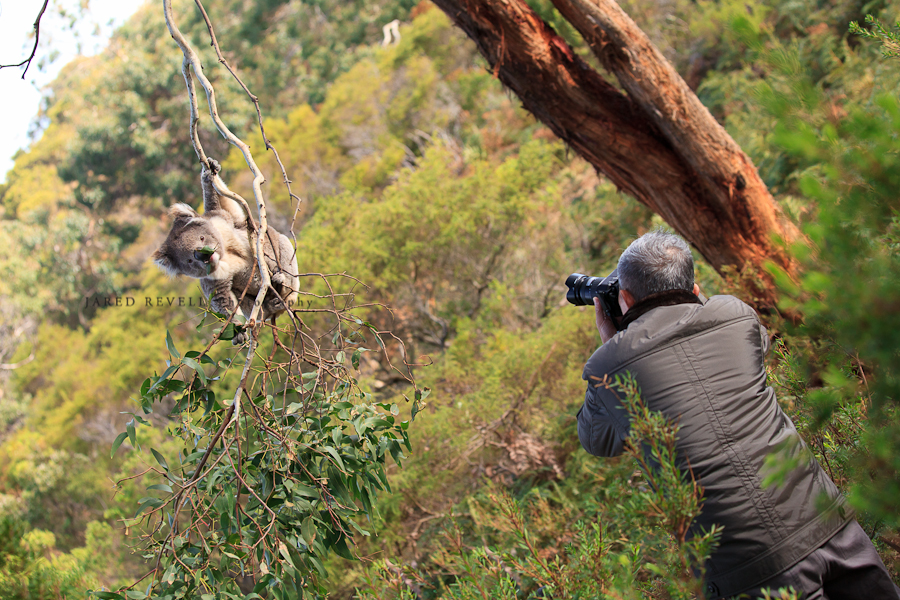 Tags: Cape Otway, close up, eucalyptus, Great Ocean Road, gum tree, koala, marsupial, Nature, victoria
No Comments...click to add a Comment
| Posted in »
Australian Travel Photography & Writing
|
Falling In … Seascape Photography
December 4, 2010 – 7:39 pm
250 meters from the coast line, it's hard not to fall into the ocean out on the rock shelves at Bridge Water Bay. The low tide sends water over layer upon layer of rock …


Tags: 2010, beach, blairgowrie, Landscape Photography, Melbourne, mornington, mornington peninsula, rye, sea, seascape, Seascape Photography, sorrento, sunset, victoria, waves
Weird Fishes – Seascape Photography
November 2, 2010 – 11:51 am
In the deepest ocean
The bottom of the sea
Your eyes
They turn me
Why should I stay here?
Why should I stay?
I'd be crazy not to follow
Follow where you lead
Your eyes
They turn me
Turn me on to phantoms
I follow to the edge of the earth
And fall off
Everybody leaves
If they get the chance
And this is my chance
I get eaten by the worms
And weird fishes
Picked over by the worms
And weird fishes
I'll hit the bottom
Hit the bottom and escape
…
Weird Fishes/Arpeggi by Radiohead (one of my faves)
Taken on the back beach of Blairgowrie/Sorrento, Mornington Peninsula, VIC.
Tags: 2010, beach, blairgowrie, cliff, colour, mornington, mornington peninsula, Ocean, Radiohead, sea, seascape, Seascape Photography, sorrento, sunset, victoria, water, Wave, Weird Fishes
Storms and Light …
September 8, 2010 – 7:02 pm
Tags: 2010, beach, light, Melbourne, mornington, Peninsula, portsea, rock, seascape, Seascape Photography, sorrento, storm, sunset, victoria, water, Wave
Fly…Gotta Getaway
August 7, 2010 – 9:26 am

Fly
High
Be my getaway
Gotta getaway…





Lyrics above extracted from the song "Getaway" by the Stereophonics.
Photos taken in the Grampians National Park, Vic.
Processed in Lightroom 3.
Tags: Add new tag, Birds, butterfly, Getaway, Grampians, Lightroom 3, Magpie, Melbourne, national park, Stereophonics, victoria
1 Comment...click to add a Comment
| Posted in »
Australian Travel Photography & Writing
|
Port Fairy to Portland – Australian Travel Photography & Writing
January 26, 2010 – 4:30 pm
For those wanting a beautiful afternoon traveling and discovering the amazing coastline of south western Victoria, then Port Fairy to Portland will not let you down.
A casual 4hr drive from Melbourne, through Geelong and Colac on the Princes Hwy, Port Fairy is 30km west of Warrnambool. A historic coastal town, which in the early 19th century was home to whalers and seal hunters and was a major transport hub, nowadays is a popular fishing and tourist destination.
With a strong Irish influence, and home to Australia's oldest licensed pub, it was actually renamed to Belfast in 1854, but changed back 33 yrs later. The town contains approximately 50 buildings protected by the National Trust of Australia, and some amazing beaches.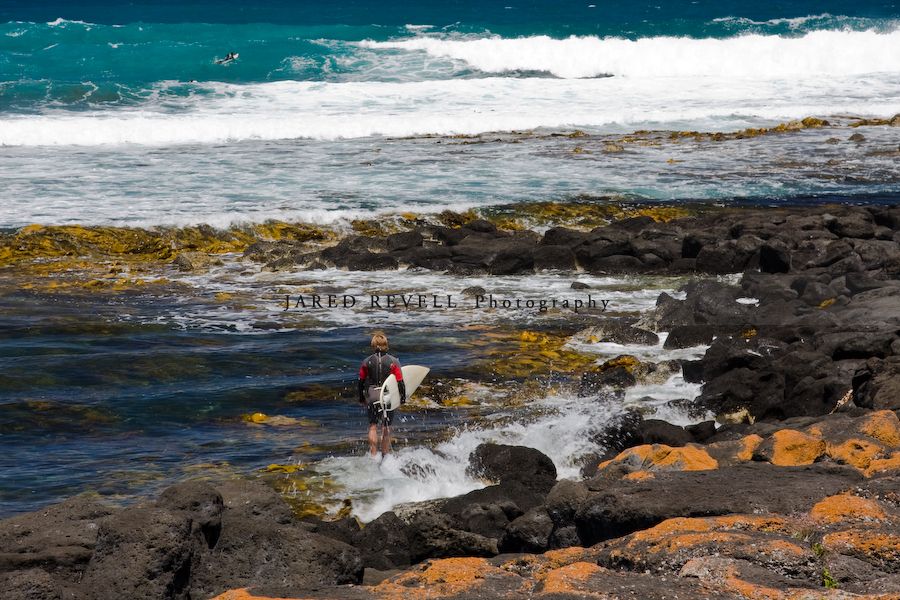 Further west, you pass through old historic towns and you'll see windfarms lining the rolling landscape, where I saw the birds co-existing with the blades….phew…




Portland Bay was named way back in 1800. It is the only deep sea port between Adelaide and Melbourne, offering a sheltered anchorage against the wild weather and seas of Bass Strait. Whalers and sealers working in the Strait used Portland Bay for shelter and fresh water, enabling the British to establish the first white settlement in the area.
The port of Portland was recently the first privatised port in Australia. Today it is also the home of a variety of professional and hobby fishing fleet.
Portland has plenty to offer to tourism, places of interest are the Maritime Museum and the Cable Tram. The Tram is a fantastic way to view the natural wetlands, the foreshore, cliff tops and botanic gardens.






Ten minutes west of Portland is a one way road to Cape Bridgewater. Well worth the drive, the road takes you along a scenic drive, with the coast on your left and wind turbines to your right. At the end of the road is the Cape Nelson lighthouse which also has a cafe.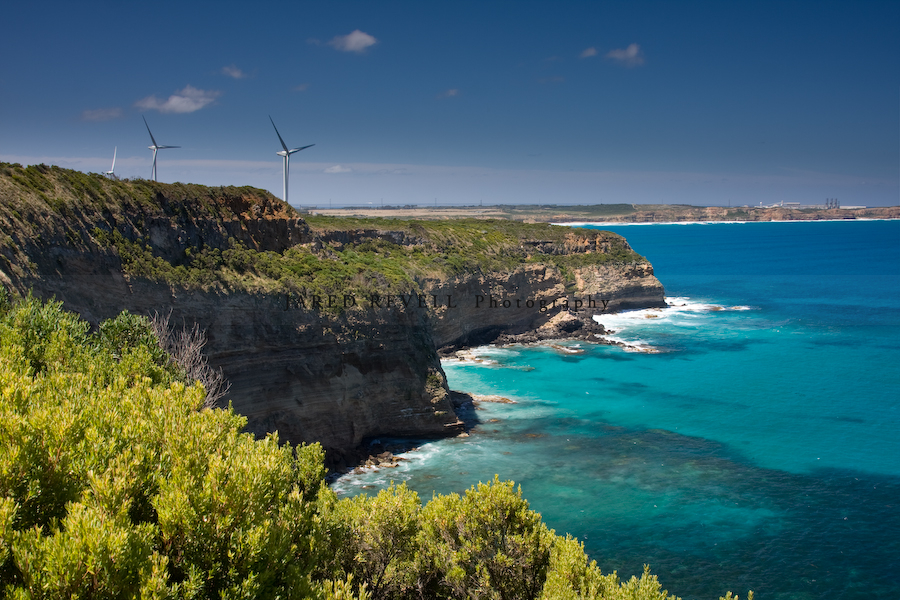 With so much to see and do, you can spend days in the region. For those wishing to stay, there is plenty of accommodation in Warrnambool, Port Fairy or Portland.
Tags: 2010, beach, Cape Bridgewater, Cape Nelson, Cape Nelson Lighthouse, Light house, Ocean, Port Fairy, Portland, turbine, victoria, wind, Windfarm
No Comments...click to add a Comment
| Posted in »
Australian Travel Photography & Writing
|
Blairgowrie – Seascape Photography
November 2, 2009 – 9:15 am
This week Neil and I drove down to Blairgowrie on the Mornington Peninsula's coast for a sunset shoot. I always love it down that way, so much to see and it always offers something new and exciting. There wasn't much of a sunset, but that's never stopped me!


The last few photos of me out on the rockshelf were taken by Neil Boucher


Tags: 2009, beach, blairgowrie, coast, mornington peninsula, rock, Rock Shelf, seascape, Seascape Photography, sorrento, victoria, water, Wave
Rejuvenation & Hope – Victorian Bushfire Region
August 24, 2009 – 7:13 pm
As the bushfire torn regions of Victoria slowly recover, news from the other side of the world tell similar stories of devastation to the land recently in Greece and California.


It's the first time I have been to the region since the raging Black Saturday fires in February. I spoke to a few locals who shared their first hand experiences. Having spent the day in the area, the shear enormity of the destruction really hit me, and I could only imagine what the residents must have felt during that awful week and also the slow recovery since.


The photo I took below really spoke to me of the struggle, unity and Aussie spirit, almost a last stance against the menacing inferno.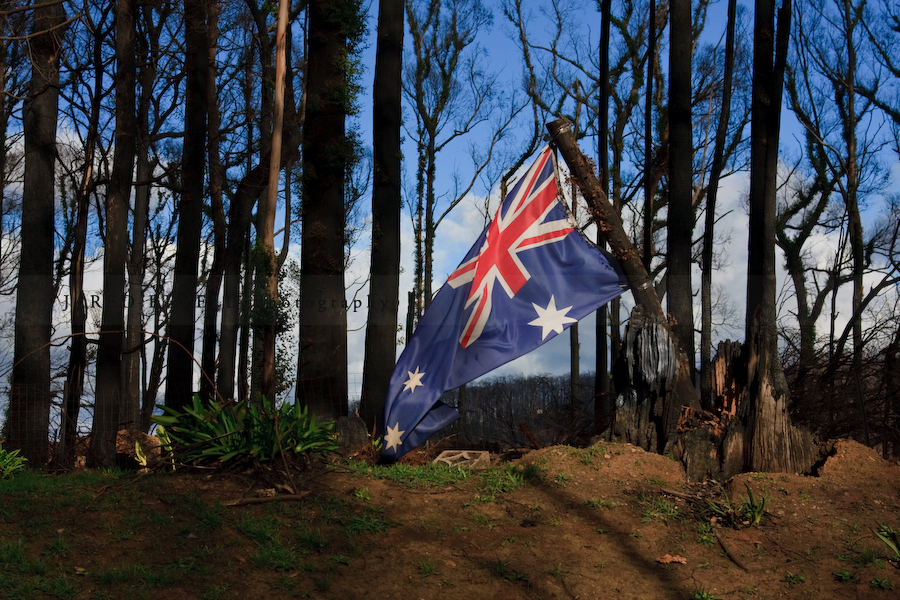 The other photographs hopefully show not only a glimpse of the awful devastation, but provide some hope and inspiration to everyone affected by the bushfires, that the cycle of life continues.


| | |
| --- | --- |
| | |
| | |
| --- | --- |
| | |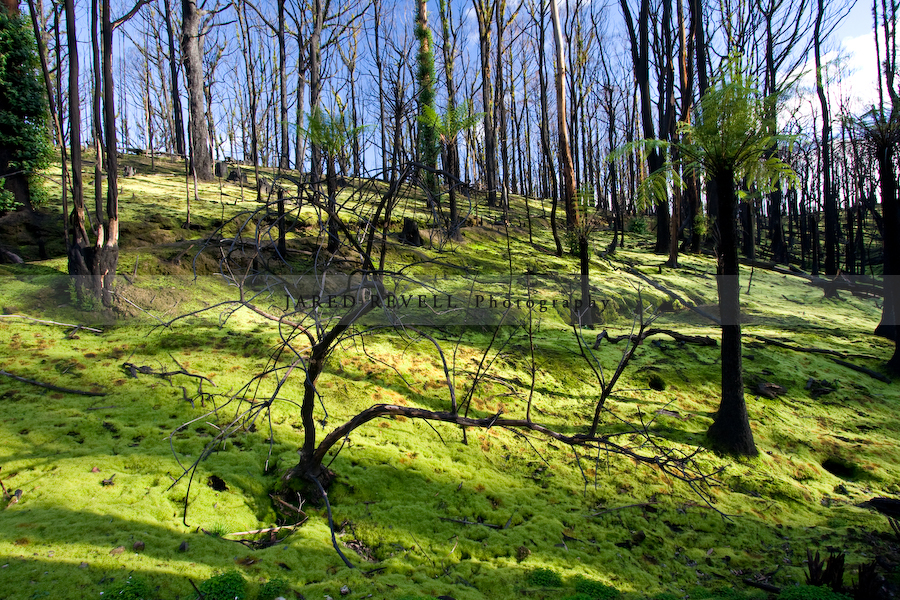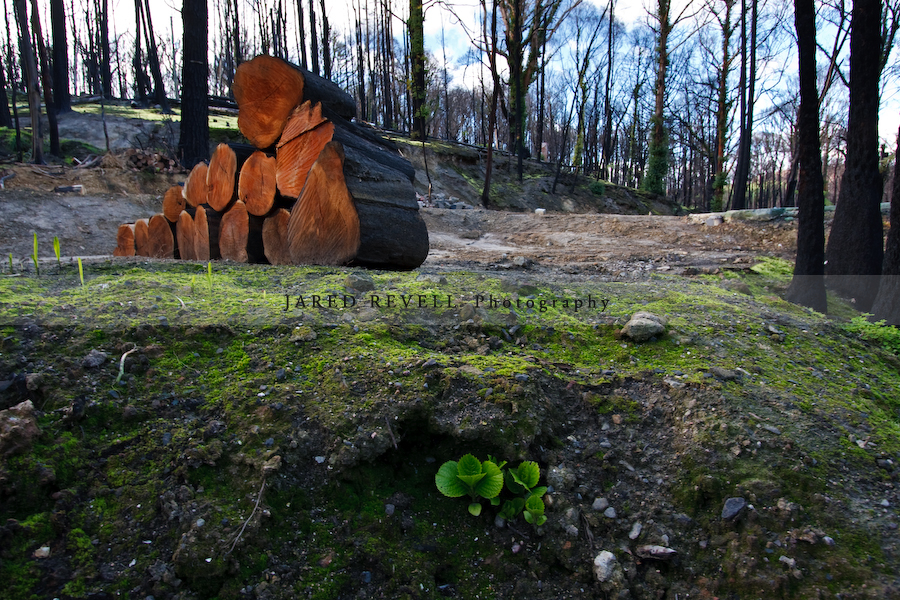 Tags: Aussie, Aussie Flag, Australian Flag, Black Saturday, bushfire, Hope, Kinglake, Melbourne, Murrindindi, national park, Rejuvenation, victoria, Victorian Bushfire Region, Whittlesea, Yarra Valley
Melbourne Open House – Melbourne Town Hall
July 19, 2009 – 12:33 pm
On Sunday 19th July, the city of Melbourne opened it's doors to the public. As part of the State of Design Festival, interior access to 32 of Melbourne's buildings were available.


Thousands of people took part in viewings and there were plenty of photographers around. Information on the buildings below is sourced from the Melbourne Open House website.


Built in 1867-70, Melbourne Town Hall is an amazingly picturesque urban composition, which rekindles the glory of Victoria's Gold Boom. The exterior facades are made from Tasmanian freestone and the clock tower houses clocks donated by the son of Melbourne's first mayor. The Town Hall is the primary local government civic building for Victoria's capital city with a grand French Renaissance style tower.


Melbourne Town Hall was the prototype for numerous suburban town halls that were built in the late 1870s and 1880s. The Administration Building has impressive functional and stylistic relationship to the Town Hall, resulting in a coherent civic centre. Renovations have preserved its original grandeur and unique period features such as the impressive wood-panelled Council Chamber.


From the mid-1880s to the late 1890s, the Town Hall was the venue for several important meetings on the question of Federation. These meetings marked significant advances in the progress of the Federation movement.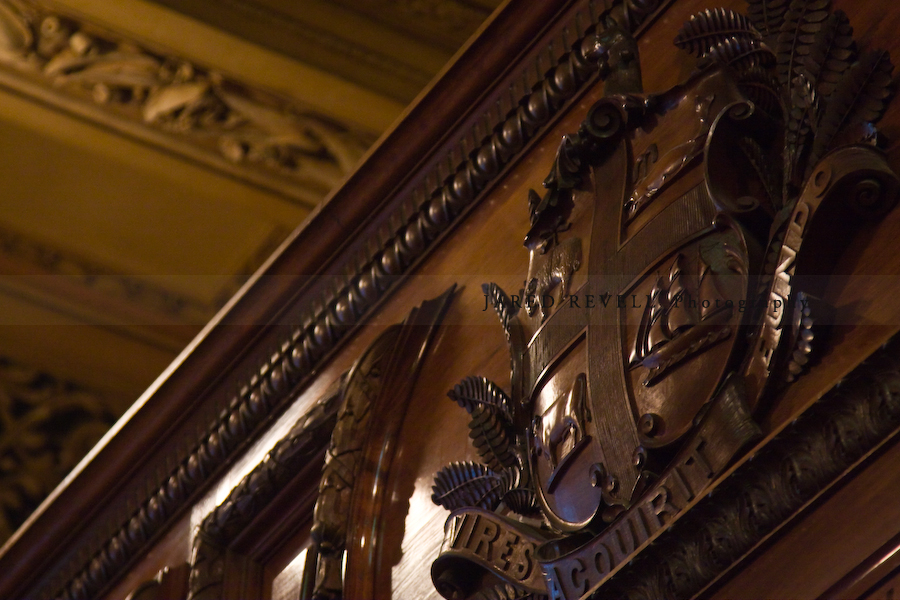 | | |
| --- | --- |
| | |
| | |
| --- | --- |
| | |
Tags: city, Melbourne, Melbourne Town Hall, Town Hall, victoria
Victoria's Alpine Region (Winter) – Landscape Photography
July 7, 2009 – 6:19 pm
Just back from a wonderful weekend away with my beautiful wife.
We stayed at Ted's High Country Lavender Farm in Porepunkah. Gorgeous wood fire mud brick cottages are set on a large property with magnificent views of Mt Buffalo and Porepunkah's surrounds.
In the summer, purple lavender covers the ground. In winter, the farm offers a great romantic mud brick cottage hideaway. The cottages have spas, wood fires and are self contained, a fantastic rustic getaway.
This time of year brings cold, frosty nights, and the wood fire is a must. The crisp mornings are just beautiful as the frost and fog takes overs the land.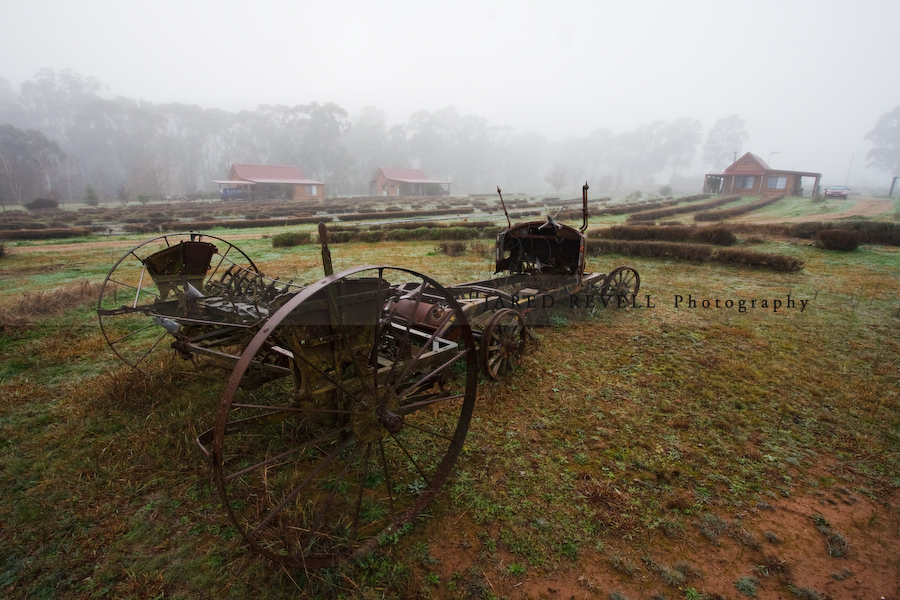 Winter brings plenty of snow to the mountains in Victoria's alpine region. On clear days, you can see snow capped peaks in the distance. Snow lovers travel up north to hit the alps to ski, toboggan or hike.
For those not into the recreational activities, traveling to the region just to see the marvelous views is sufficient, there's something for everyone.
Mount Buffalo National Park (see www.parkweb.vic.gov.au for more info) stands tall as the dominant mountain south along the Great Alpine Rd from Myrtleford, Ovens, Eurobin, Porepunkah and along to Bright. The mountain has spectacular granite cliffs, endless waterfalls and enormous, deep gorges.
Lying on the western slope of Mt Buffalo is the massive Lake Buffalo. It is a popular fishing, water skiing and picnicking venue.
This time of year, carrying snow chains is compulsory. The main road is often snow-covered from McKinnons Corner through to Cresta Valley.
In winter, the road to "The Horn" (the peak of Mt Buffalo at 1723m) is closed due to the road being snowed under. Skiers can enjoy a day at Cresta Valley, while hikers can venture around other areas of the park as there is over 90km of tracks. We hiked up "The Hump" track to the Cathedral.
Starting at the Cathedral Picnic Area, the "Hump track" track is covered in snow in winter, but worth the climb for spectacular views of Cresta Valley and the Horn.
On the climb up or down, make sure you stop and check out Torpedo Rock. This unbelievable 'torpedo' shaped rock sits on another and looks amazing in winter with the ground covered in snow and a vibrant blue sky.
On the climb down the mountain, we walked the Eurobin Falls Track, which passes Ladies Bath Falls along the way. Just round the bend from the walking track is the Eurobin Falls Picnic Area which is also a lovely spot to stop and view the water running at full force this time of year.
The nights in the Alpine Region get very chilly indeed, especially on clear nights. Below is a 30 minute star trail photo before the fog started to drift over the valley, fogging up the lens as well !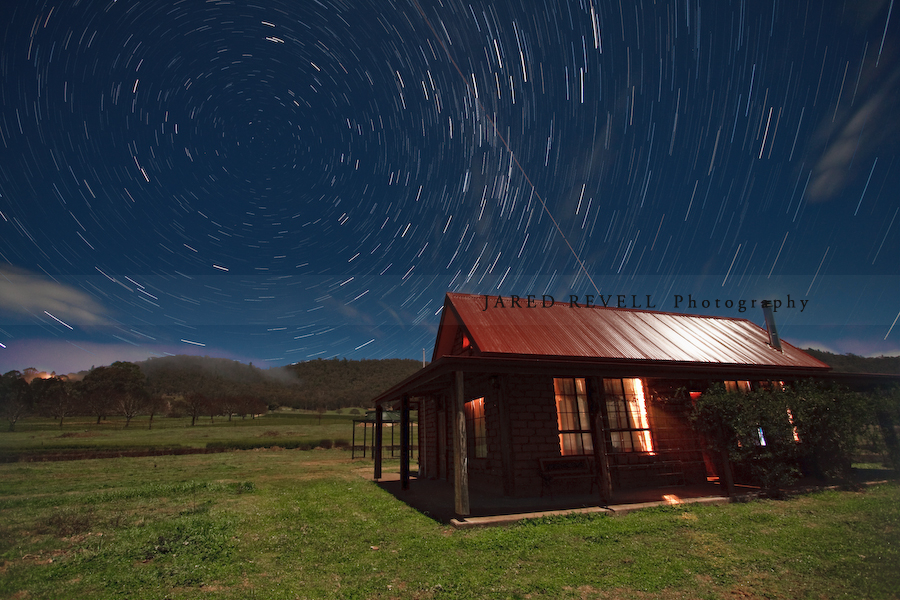 A trip to this region wouldn't be complete without stopping at one or many of the local wineries. Without doubt, the most popular from the King Valley wine region is Brown Brothers.
The family owned and run Brown Bothers produces the largest range of wines in Australia. You can be sure every time you go, there will be something new and exciting to taste and buy.
Tags: 2009, Alpine, Alpine Region, Bright, Brown Brothers, Cathedral, Eurobin, Eurobin Falls, farm, fog, frost, High Country Lavendar Farm, Ladies Bath Falls, Lake Buffalo, Landscape Photography, Mount Buffalo, mountain, Mt Buffalo, national park, Porepunkah, ski, snow, snow capped, Star Trail, Torpedo, victoria, Winery
Boyntons Feathertop Winery – Porepunkah VIC
June 5, 2009 – 6:43 pm
In 1989, Kel Boynton established a family owned winery in the beautiful town of Porepunkah, in Victoria's Alpine Region. The winery is now aptly named "Feathertop" after the nearby mountain which is a commanding feature in this Alpine region. Mt Feathertop has been attributed to sheltering the valley and influencing the air currents in the region. It also has had an impact on the rich soil structure in which the grapes are grown, as well as providing fresh Alpine spring water for the vineyard.
"Like all great success stories, the story of the birth of Boynton's Feathertop Winery is filled with passion, adventure, disappointment and fear but above all strength, determination and an individuals belief in his dream despite the odds."
"Feathertop Wines captures the essences of nature and the beauty and crispness of the Alpine Valleys which surround the wine" (from the Feathertop Wines website)
Kel & Janelle Boynton have a Wine Club called "Summit Cru" which I am a member of.  Each quarter I receive a dozen of Kel's selected wines ~ which I always look forward to!
Below are a few photos I've taken from autumn and summer at Feathertop.   I have the first autumn photo "Bright Red Path" printed on extra large canvas in my lounge room, which I love.
The last photo in the set I named "Feathertop" and is one of my favourites as the wispy clouds look like feathers above the "Feathertop" vineyard.
Feathertop Wines is located at 6619 Great Alpine Road, Porpunkah, VIC.  If you are in the area, make sure you stop in to the cellar door and try their wonderful wines.

Tags: Autumn, Autumn Photo, Boyntons, Bright, Bright Red Path, Feathertop, Kel Boynton, Porepunkah, Vines, Vineyard, wine, Winemaker, Winery